Brussels Declaration: Public broadcasters VRT, RTBF, CBC/Radio-Canada and international organisations call for press safety
Thursday, September 30, 2021 – Today, public service media companies and international organisations have signed the Brussels Declaration, a statement for journalist safety drafted on the initiative of CBC/Radio Canada, VRT and RTBF. Violence against and intimidation of journalists and other media staff is increasing, hence this call for a halt to this dangerous evolution. "Freedom of the press is a universal human right. We must unite to protect it."
2020 and 2021 will be remembered as violent years for media. According to research conducted by the European Centre for Press and Media Freedom, supported by the European Commission[i], more than 900 attacks on journalists were perpetrated in Europe in 2020. Alarmingly, several countries were even confronted with the assassination of journalists.
Therefore, VRT and RTBF decided to dedicate the annual conference of Public Broadcasters International (PBI), which they co-organise in Brussels, to the role of public service media in democratic systems. The conference will lay the emphasis on the Brussels Declaration.
The Brussels Declaration is in line with the Universal Declaration of Human Rights. It endorses the right to a democratic society with a free and secure press and media. All signatories to the Brussels Declaration commit themselves to adhering to 5 important principles, to actively promoting and implementing them. These are the 5 principles:
We improve the safety of journalists and other media staff

We stand up for the independence of public broadcasters

We encourage well-informed democratic debate

We support a strong and diverse news media landscape

We promote diversity, fairness and inclusion within our own organisation and in the society we serve
Věra Jourová, Vice-President for Values and Transparency in the European Commission: "The pandemic has showed more than ever that information is a public good. It has also showed the need to do more to protect those who inform us. Two weeks ago the European Commission presented, for the first time ever, recommendations to Member States to improve the safety of journalists. Today public broadcasters make a series of commitments to better protect journalists. This is a very important and welcome step. By working together we can change the situation on the ground. Public broadcasters have a special role to play and I am pleased that they are ready to play this role."
Frederik Delaplace, CEO of the VRT: "Freedom of the press is a cornerstone of every well-functioning democracy. And in a rapidly changing society, the need for independent, reliable information is only increasing. That is why it is so frightening that physical and verbal attacks on journalists have been increasing hand over fist in the last few years. That undermines the work of public and private media's editorial teams. We must not let that happen. We must actively strive to protect our press. As a public broadcaster, we want to take the lead in a broad, social debate about one of our most fundamental values. To that end, the VRT is signing this Brussels Declaration today and calling on policymakers to take action, together with all media companies."
Jean-Paul Philippot, Administrator General of the RTBF: "The issue of the safety of our journalists and technical staff in the exercise of their work shows the key role they play in making our society a place of autonomy and choice. Threatening them verbally, or worse, physically, is the same as directly endangering the freedom of thought of each one of us. It is essential for public service media to remain independent to ensure pluralistic information and the widest diversity of opinions. The latest events should remind us that being able to have certified and verified information is at the heart of our democratic society, and anything that weakens the press puts it at risk."
Catherine Tait, President and CEO, CBC/Radio-Canada: "The rise of online abuse targeting journalists, especially women and racialized journalists, is an urgent issue that requires our urgent attention. With our colleagues at RTBF and VRT, we're launching the Brussels Declaration and calling on our peers in news and allies around the world to join us. Journalism is vital to democracy, and journalists and media professionals must be able to do their work without these unconscionable attempts to silence them."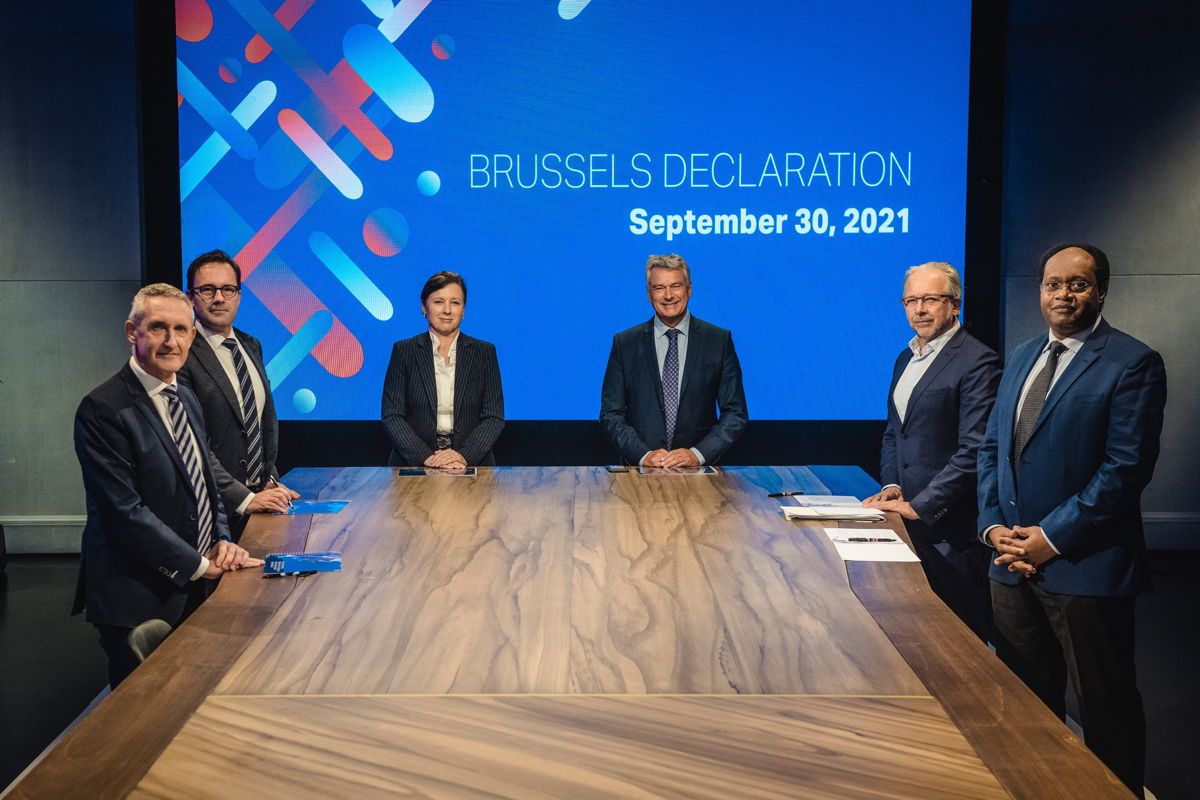 You can read the full text of the declaration here. RTBF and VRT are reinforcing this initiative by announcing the Brussels Declaration in various newspaper advertisements. Today in Le Soir and La Libre Belgique and on Saturday in De Tijd and De Morgen.
What is Public Broadcasters International?
Since 1990, delegations from public broadcasters from all over the world have met annually at the Public Broadcasters International conference to exchange experiences and knowledge. Brussels was to be the host city of the PBI conference on 30 September 2021. As a result of the corona measures, it could not take place live but was instead held as a video conference. More information about the conference of Public Broadcasters International (PBI) can be found here: https://pbibrussels2021.be
The Brussels Decalaration is already signed by:
Radio-Télévision belge de la Communauté française (RTBF) - BEL

Vlaamse Radio- en Televisieomroeporganisatie (VRT) - BEL

Radio-Canada - CAN

CBC/Radio-Canada - CAN

France Télévisions - FRA

Radio France - FRA

British Broadcasting Corporation (BBC) - GBR

Nederlandse Publieke Omroep (NPO) - NLD

European Broadcasting Union (EBU) – INT ORG

Public Media Alliance (PMA) – INT ORG

Les Médias Francophones Publics – INT ORG

Zweites Deutsches Fernsehen (ZDF) - DEU

Arbeitsgemeinschaft der öffentlich-rechtlichen Rundfunkanstalten der Bundesrepublik Deutschland (ARD) - DEU

International Federation Journalisme – INT ORG

European Federation of Journalists – INT ORG

Knowledge Network Corporation – INT ORG

Die Schweizerische Radio- und Fernsehgesellschaft (SRG SSR) - CHE

Médias multiplateforme éducatif et culturel du Québec - CAN

Sveriges Utbildningsradio - SWE

France Médias Monde - FRA

Yleisradio - FIN

Sveriges Television (SVT) - SWE

Asia - Pacific Broadcasting Organisation – INT ORG

Lituanian National Television and Radio - LTU

TV5 Québec Canada - CAN

TV5MONDE – FRA/INT ORG

Televisión América Latina (TAL, Union of Latinamerican Public, Educational and Cutlural Broadcasters) - INT ORG

Sindicato Nacional de Periodistas de Costa Rica - CRI

Korean Broadcasting System (KBS) - KOR

Radio New Zealand (RNZ) - NZL

Radio Télévision Suisse (RTS) - CHE

Radio and Television of Bosnia and Herzegovina - BIH

Österreichischer Rundfunk (ORF) - AUT

Rádio e Televisão de Portugal (RTP) - PRT

NHK (Japan Broadcasting Corporation) - JPN

Australian Broadcasting Corporation - AUS
​
[i] https://ec.europa.eu/commission/presscorner/detail/en/SPEECH_21_4766
Bob Vermeir Communication manager and corporate spokesperson, VRT