One of a kind: more than thirty top Flemish artists sing 'People Help the People' together
On Monday, March 6, Flemish media houses are organizing a big radio initiative for charity drive Syria Türkiye 12-12
Friday, March 3, 2023 – At 7:45 a.m. on March 3, 2023, twelve Flemish radio stations presented the benefit song 'People Help the People' by Artists for 12-12. More than thirty singers and musicians recorded the song together. The initiative comes from VRT, the public broadcaster for the Dutch-speaking part of Belgium. DPG Media, Play Media and Mediahuis, the other Flemish media groups, were immediately prepared to join in. Francophone media colleagues RTBF and RTL are also organizing an initiative to collect money.
With 'People Help the People', the artists are calling for people to donate money to charity drive Syria Türkiye 1212. Because a great deal of help is badly needed. The earthquakes completely destroyed an area the size of Belgium and the Netherlands combined, in one fell swoop. Over 50,000 people died. Millions are homeless. ​
Hadise: "I was born in Belgium, but my roots are Turkish, and I've been living there for years now. So, I feel like I serve as a bridge between the two cultures. When they asked me to join in, I immediately said, 'When are we doing it, and when can I fly?' I'm so glad that this is happening, and thank you to all of my colleagues, from the bottom of my heart."
Laura Tesoro: "When such terrible things happen in the world, I always feel really powerless. So, if there's anything I can do, certainly if it has something to do with making music, I'm eager to help."
Dana Winner: "It's our duty to help people who end up in such bizarre circumstances and suddenly lose all that was dear to them."
Francisco Schuster: "I am very happy to be able to do this, together with so many artists, each with their own target audience. This way, we can reach as many people as possible and encourage them to donate money."
Universal power of music
The Flemish-Turkish megastar Hadise is singing along, together with these artists: Astrid Stockman, Axelle Red, Bart Peeters, Berre, CAMILLE, Clouseau (Koen and Kris Wauters), Dana Winner, Francisco Schuster, Geike Arnaert, Grace, Gustaph, ILA (Ilayda Cicek), Isabelle A, Johannes Genard, Lady Linn, Laura Tesoro, Maksim, Margriet Hermans and Celien, Metejoor, Natalia, Niels Destadsbader, Novastar (Joost Zweegers), Olivia Trappeniers, Paul Michiels, Peter Van Laet, Pommelien Thijs, Selah Sue and The Starlings (Tom Dice and Kato). The band is made up of top names, too: Flip Kowlier on bass, Isolde Lasoen on drums, Jef Neve on keys, Jeff Assy on cello, Joost Zweegers on acoustic guitar and Milo Meskens on guitar. Nina Babet pulls it all together as the singing coach. Jeroen Swinnen is the producer.
Everyone was immediately prepared to join in. Schedules were rearranged, and the musicians purposefully headed to the iconic Studio Toots at VRT on Monday, February 27. There was an abundance of solidarity and engagement.
All of the proceeds from the song will go to the Consortium 12-12.
All radio stations stand together
On Monday, March 6, exactly one month after the first earthquake, the twelve major radio stations of VRT, DPG Media, Play Media and Mediahuis are joining forces. Under the motto People help the people, Radio 1, Radio2, Radio2 BeneBene, Klara, Studio Brussel and MNM (VRT); Qmusic, Joe and Willy (DPG Media); NRJ (Play Media); Nostalgie and Nostalgie+ (Mediahuis) will take special requests.
The radio stations will each make their own broadcasts, with the same goal: to collect as much money as possible to help the victims in Syria and Türkiye. From 9 a.m. to 7 p.m., as a listener, you can choose which music you want to hear, on the condition that you make a donation to Syria Türkiye 12-12. You can do so by sending a text message. It costs 1 euro per message, money that will go, in its entirety, to the Consortium 1212. You can also donate money to account number BE 19 0000 0000 1212 or online, via www.1212.be.
The highlights of the radio day will be shown on VRT MAX. You can also follow the Radio2 broadcast from 9 a.m. to 12:15 p.m. and from 1:30 p.m. to 3:25 p.m. on television station Eén.
Erhan Demirci on tour
In addition to your favorite music, you will also get to hear testimony from victims, people who have a connection to the disaster area and first responders. You'll also get to hear comedian Erhan Demirci on the twelve radio stations. He's going to visit a few brave volunteers, who are taking action to support the victims of the disaster.
Sneak previews of Zonder afspraak ('Walk-ins Welcome')
Actors Ali Can Ünal, Buse Kaplan, Jasmin Galas and Aimé Claeys will drop by Studio Brussel and MNM. They will soon be appearing in the fiction series Zonder afspraak ('Walk-ins Welcome'), a colorful comedy about the Turkish hair stylist in Ghent Aziz who actually wants to be a musician. Canvas and Kinepolis are organizing three exclusive sneak previews to benefit Syria Türkiye 12-12. On Wednesday, March 29, together with the cast, you can go see it in Kinepolis Antwerp and Kinepolis Hasselt, and on Thursday, March 30, in Kinepolis Ghent. Tickets cost 20 euros and go on sale as of March 6.
Gripping footage
There is also a magnificent, gripping music video that goes with 'People Help the People'. It will be shown regularly in the days to come on television stations Eén, Canvas, Ketnet, VTM, VTM 2, VTM 3, VTM 4, Play4, Play5, Play6 and Play7.
On VRT MAX, you get a glimpse behind the scenes of the recording. News anchor Fatma Taspinar, herself of Turkish origin, talks to the Artists for 12-12 about their engagement and to journalist Steven Decraene about the disaster. The special will also be shown on Eén on the evening of Saturday, March 4, after The greatest dancer van Vlaanderen ('The Greatest Dancer in Flanders'). On Monday, March 5, Iedereen beroemd ('Everybody Famous') is also supporting the initiative, and for one day, it will be called Iedereen helpt ('Everyone Helps'). The broadcast will revolve entirely around Syria Türkiye 12-12. At 7:45 p.m. on Eén and VRT MAX.
Solidarity knows no bounds: buildings lit up with 12-12
The francophone colleagues from RTBF and RTL will also be collecting money on Monday for the Consortium 12-12. The 12-12 logo will be projected onto the Reyers Tower, next to the VRT and RTBF buildings in Brussels, from Sunday evening until Tuesday morning, along with the title of the initiative: People help the people. At DPG Media, the huge screen at the entrance to the headquarters on the Mediaplein in Antwerp sends the message. In Ghent, the Ghelamco Arena spontaneously offered to support the initiative, as well, and will be showing its logo and name on the façade. In Play Zuid, in Antwerp, the 'People Help the People' music video will be played in the coming days, for everyone in the audience for Jan Jaap op zondag ('Jan Jaap on Sunday'), De Tafel van Vier ('Table of Four') and Play Café. Mediahuis in Antwerp will also be showing the video on its screens.
Aid organizations united in Consortium 12-12
You can support Syria Türkiye 12-12 via bank account BE 19 0000 0000 1212 or online, at www.1212.be. Every donation of at least 40 euros made between February 12 and July 31, 2023, deposited in the 12-12 account, gives the donor the right to a tax declaration in 2024. The Belgisch Consortium voor Noodhulp (Consortium 12-12 vzw/asbl) launches national fundraisers in case of exceptional disasters, to guarantee maximal aid at minimal costs. The seven members are Caritas International, Doctors of the World, Handicap International, Oxfam-Belgium, Plan International Belgium, Belgian Red Cross Flanders/Belgian Red Cross and UNICEF Belgium. Donations to the Consortium 12-12 account will be distributed amongst these seven member organizations, in accordance with the annual distributive code.
Right now, Syria Türkiye 12-12 has raised 8,275,773 euros. The new collection total will be revealed on Tuesday, March 7, at 4:45 p.m.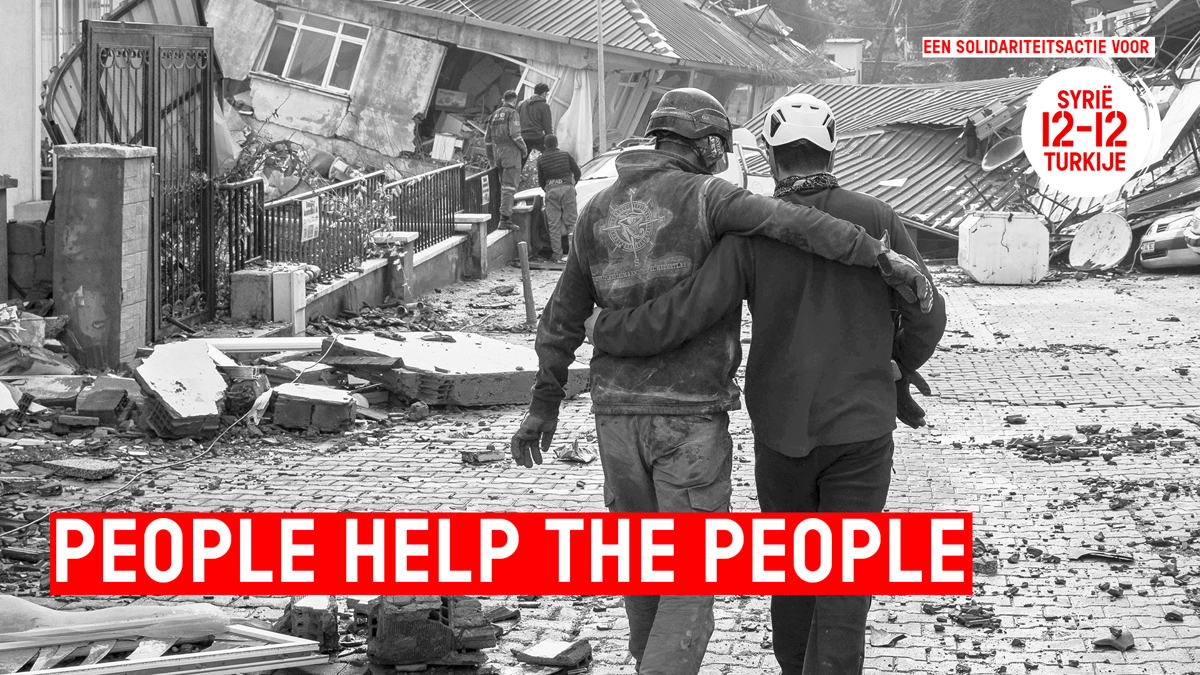 Bob Vermeir Communication manager and corporate spokesperson, VRT