The world gets to know 'Hoodie', fiction for children made by VRT
70 countries purchase this internationally acclaimed series
Thursday 17 June 2021 – Ketnet, the brand with which the VRT focuses specifically on children, has great international news. Hoodie, an exciting fiction series about heroes in… Brussels, will be broadcast in more than 70 countries both within and outside Europe. Two series of Hoodie have already been made and a third is going into production.
"Fiction is the perfect way to give children a broad view of the world, therefor it is vital for Ketnet," explains Annemie Gulickx, network manager for Ketnet. "Hoodie is more than a story about a superhero. It is also a series that is set in a large city with all its advantages and disadvantages, with a great diversity in different areas and strong characters Ketnet viewers can identify with. Our fiction series tell universal stories, even if they are stories set here in Belgium and made by Flemish and Brussels producers. It is wonderful to see that they are also finding their way abroad."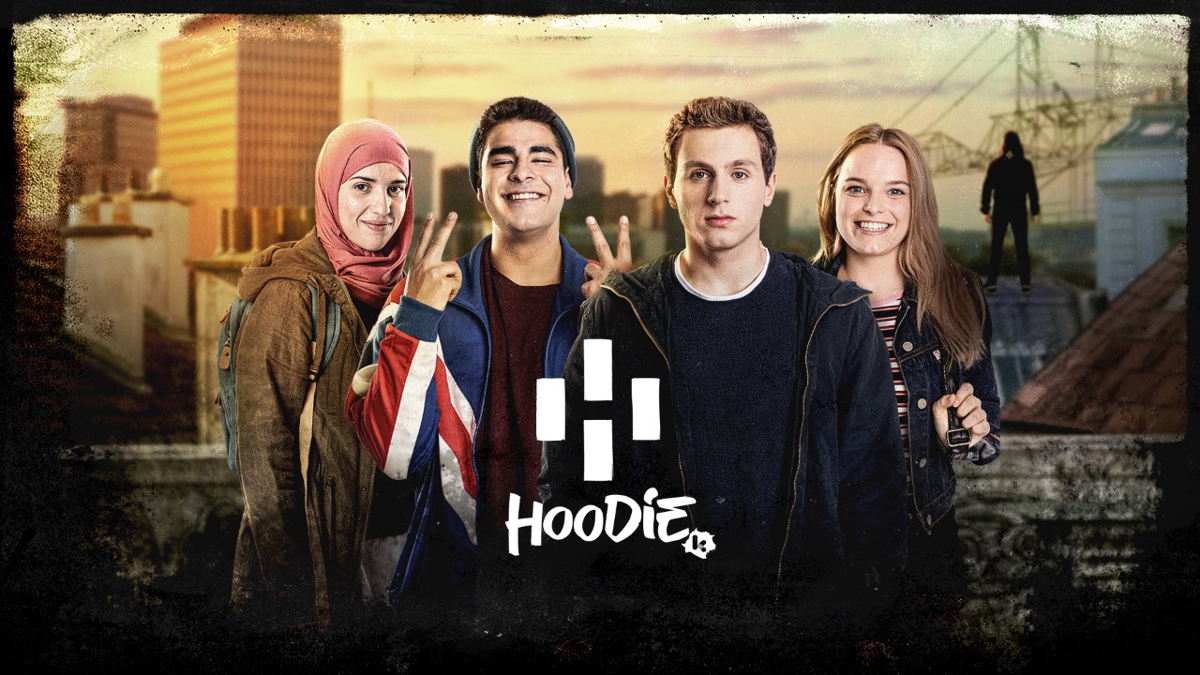 What or who is Hoodie?
'Hoodie' revolves around sixteen-year-old Pieter, a passionate "traceur" who uses his "parkour" talent like a modern-day Robin Hood. Parkour is a freerunning discipline in which these traceurs, also known as a freerunners, push their limits in overcoming obstacles in the city. Hoodie and his friends fight crime in his Brussels neighbourhood. In addition to the highly experienced Inge Paulussen, the cast includes young talented actors such as Maarten Cop, Lotte Stevens, Armin Mola, Ahlaam Teghadouini and Iliass Dennoune. The direction is in the hands of Senne Dehandschieter, Olympia Allaert and Anthony Nti. The creative team was headed by showrunner Nine Cornelissen.
International
Hoodie has already proved popular with Ketnet viewers, but in the meantime the series is also attracting attention internationally. Hoodie has also been sold to streaming services Amazon Prime and Videoland, and the public broadcaster RTBF. Apart from Germany, the Netherlands, France, Slovenia and many other European countries, the series is also broadcast in various African countries. The full list can be found below.
Hoodie in German
For this international sale Hoodie has been dubbed in German, French and Slovenian. Check out a preview of what the Brussels dialect sounds like in the German language here:
Hoodie is broadcast in no fewer than 70 countries :
Europe
The Netherlands

Slovenia

Germany

France

Monaco

Andorra

Luxembourg

Switzerland
Antarctica
French Southern and Antarctic Lands
North America
Guadeloupe

Martinique

Saint Barthélemy

St Martin

Saint Pierre and Miquelon
South America
Oceania
French Polynesia

New Caledonia

Vanuatu

Wallis and Futuna
Africa
Algeria

Angola

Benin

Botswana

Burkina Faso

Burundi

Central African Republic

Comoros

Congo

Congo-Kinshasa

Djibouti

Equatorial Guinea

Eritrea

Ethiopia

Gabon

Gambia

Ghana

Guinea-Bissau

Guinea

Haiti

Ivory Coast

Cape Verde

Cameroon

Kenya

Liberia

Madagascar

Malawi

Mali

Morocco

Mauritius

Mauritania

Mayotte

Mozambique

Namibia

Niger

Nigeria

Uganda

Reunion

Rwanda

Sao Tome and Principe

Senegal

Sierra Leone

Somalia

Sudan

Southern Sudan

Swaziland

Tanzania

Togo

Chad

Tunisia

Zambia

Zimbabwe
Hoodie is a co-production of Ketnet and Hotel Hungaria with the support of VAF/Mediafonds, the Brussels-Capital Region and the Belgian Tax Shelter legislation. Hoodie's international distributor is ZDF Enterprises.
Bob Vermeir Communication manager and corporate spokesperson, VRT